SUITE LEGAL WORKOUT
The "Suite legal Workout" consists of two closely related products, namely the recovery of judicial and extrajudicial credit.

It is a Suite that has developed, over time, a focal importance and, therefore, has been developed and implemented by Micra in order to meet all the needs of the customer.

This suite is articulated in a product that is the logical antecedent of the other: where it is not possible to recover the credit from an out-of-court basis, it proceeds with the judicial one.
• GESCO E - Extrajudicial credit recovery

Intended for the Anomal Credit Department and the Litigation Department, this product has been specifically designed and developed to manage the extra-judicial actions for credit recovery..

Read More >
The application proposes the task of managing and automating the entire pre-litigation phase of the recovery of the credit.

This phase can be explained in a series of actions such as phone collection, solicitation, mail etc...
Through visual workflows, evidence is given of all the activities carried out, so as to ensure a full and conscious strategic vision of all the events dedicated to the recovery action.

Worthy of note for its effectiveness in terms of commitment, is the ability to create special reports and automatic reruns that allow you to have in addition to the general view of the situation in question, the verification of the work done by any external teams.
Recipients
Anomalous Credit Department
Litigation Department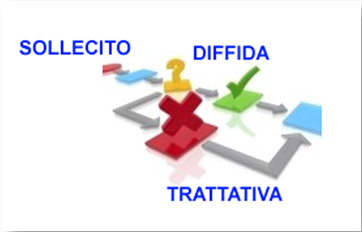 • GESCO L - Judicial credit recovery

Where the recourse to the out-of-court phase did not allow for the recovery of the credit, Gesco L, is the specific solution for the management of legal actions for the recovery of credit.

Read More >
Also dedicated to the Anomalous Credit Department and the Litigation Department, it manages in its entirety the legal action aimed at recovering the credit.

The product allows to choose the legal action that best suits the needs of the species, thus facilitating the operator to easily and intuitively navigate the different options of choice.

Also for the judicial phase specific workflows were implemented - differentiated according to the chosen legal action - which allow to follow the entire recovery process and to make strategic choices based on the different degree of action.

Of fundamental importance, the possibility of drawing up specific mass or detailed reports that, in addition to allowing an in-depth analysis, also allow the verification of the work done by external lawyers.
Recipients
Anomalous Credit Department
Litigation Department